Enhancement Detail Gtechniq & Gyeon Certified Services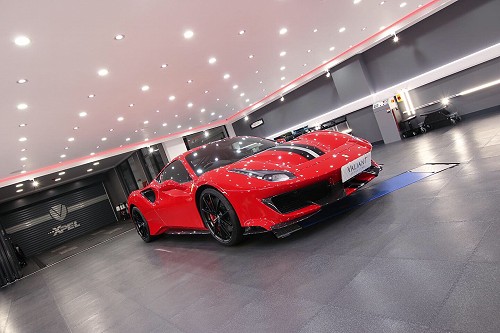 Prepare, Enhance & Protect Paintwork
The Enhancement Detail is the most commonly requested service here at Valiant Detailing. Highly recommended for vehicles that require a higher-level of attention across a host of exterior and interior surfaces & perfect for clients seeking to improve the condition of a recent purchase or bring a new lease of life to an existing daily driver.
Fundamental to this package is our dual-stage machine polishing process, aiming to address a higher percentage of paint defects that have built up over time and can be attributed to inappropriate wash practices, general usage and weathering. Secondary benefits of the package include the application of dedicated ceramic coatings to painted surfaces, trim, wheels, and glass sections. The perfect level of service to enhance the overall condition of a vehicle while introducing robust levels of protection with a host of protective coatings or paint protection film application.
The Enhancement Detail takes an average of 4 to 6 days to complete, factoring in a suitable time frames for all protective & ceramic coatings to be cured in our climate-controlled environment.
The level of service is labour intensive but the overall results are always worth it in our opinion. For additional information on the stages & processes involved please see below.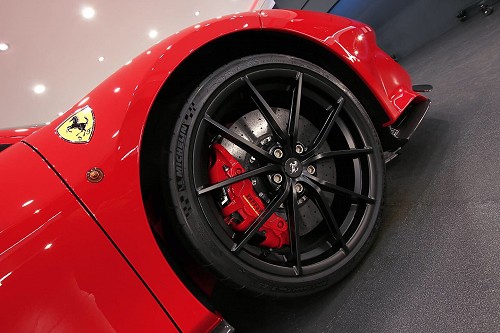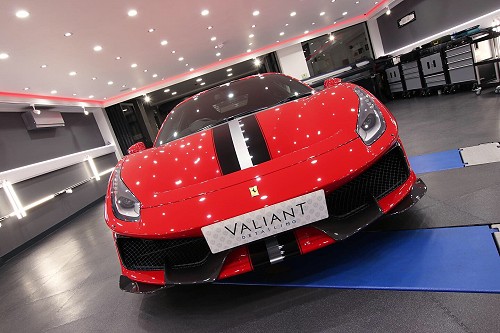 Price: From POA - Booking Fee: 25% - Duration: 4 to 5 Days
Enhancement Detail - The Process
Safe Wash, Decontamination & Preparation Stages
As with all detailing packages here at Valiant Detailing, the Enhancement Package starts with a multi-stage preparation process. In brief, safe wash, paint decontamination & a host of preparatory stages are carried out before the commencement of any machine polishing or protective stages. Levels of preparation are tailored to each vehicle booked into the workshop and factors in starting condition including any client specific requests.
For a closer look at the preparatory steps involved please see the following post "Step by Step Detailing Preparation Process" which provides an insight into the general processes, methods & steps utilised.
For a breakdown of stages specific to the Enhancement Detail (following all preparation) please see below:
Enhancement Polishing Stages
Upon completion of all preparation stages, the vehicle is now ready to be machine polished in the Valiant Detailing clean room. The host of polishing stages generally carried out throughout a Enhancement Detail package are listed below:
Wet-sanding process carried out to remove isolated paint defects of a heavier/deeper type

Compounding machine polishing stage to remove a higher percentage of paintwork defects

Refining machine polishing stage to remove any haze/marring and increase paintwork clarity and gloss

Head and tail-lights dual stage machine polished to remove a high percentage of defects and increase gloss levels

Wheel faces, painted trim and chrome polished with micro polishing machines (Wheels off packages include additional polishing stages)

All glass cleansed and machine polished utilising dedicated glass polishing pads and compounds

Vehicle wiper blades fully cleansed or replaced where required

Exhaust tips cleansed and polished using dedicated metal polishes and micro polishing machines

Toothpick stages to ensure all finer elements are addressed, includes removal of any remaining polish residues to panel gaps, bodywork seams and door shuts

All paintwork, gloss trim, wheels & glass cleansed with a selection of alcohol & panel wipe solutions to remove polishing oils and remaining residues prior to proceeding to protection/ceramic coating stages

Vehicle rewashed utilising a touchless method to ensure the removal of polishing dust that may be present from the machine polishing stages. Focus on all panel gaps, door shuts, and bodywork seams
Enhancement Protection Stages
Upon completion of all polishing stages and secondary preparation, vehicles are protected with a host of ceramic coatings, upgraded coating options or paint protection film packages are additionally available. Stages utilised in the protection phase are listed below:
Ceramic coatings applied to all paint work and gloss trim sections (Ceramic coating upgrades available for all surfaces)

Ceramic coating applied to all wheel faces (Wheels off upgrade available for added coverage)

Tyres and wheel arches coated with dedicated sealants & ceramic coatings

Trim dressing or dedicated ceramic coating applied to all black plastic and rubber trim

All exterior glass treated and coated with rain repellent, ceramic coating options available for increased durability

Exhaust tips protected with dedicated high-temperature ceramic coating

Engine bay trim & selected components protected with dedicated ceramic coatings

Selected interior surfaces (Leather, carpets, mats, trim) prepared & protected with dedicated sealants or ceramic coatings where chosen

IR curing process to all exterior ceramic coated surfaces
Enhancement Finishing Stages
Interior surfaces cleansed with antibacterial/antimicrobial based products & lightly vacuumed

Selected engine bay areas, door shuts and panel gaps blown with filtered air & wiped down with protective spray coating

Exterior surfaces blown with filtered air & wiped with topcoat/quick detailer spray ready for inspection and quality control

Final inspection stage to ensure the vehicle meets our quality control process ready for photography & customer handover