Menzerna Certified Polishing Courses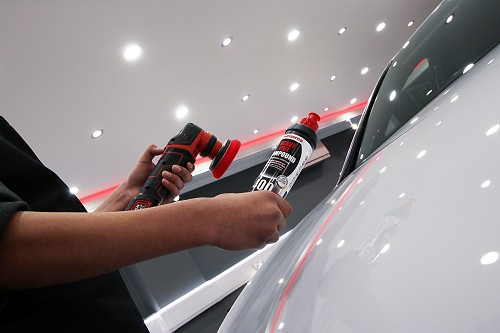 MENZERNA Accreditation Event Dates – Thursday 30th November 2023 or Friday 1st December 2023
Expand your knowledge with factory-designed Menzerna polishing training.
Certified Menzerna training teaches not only theoretical basics but above all the practical application of polishes and pads in the Menzerna range.
In the polishing training, you have the opportunity to try out different polishing machines, polishes, pads, and applications on different car paints.
Menzerna polishing training is suitable for both beginners and intermediate users.
Valiant Detailing has been selected, trained, and certified as a Menzerna Authorized Trainer, authorized trainers are detailing experts chosen by Menzerna with years of business and practical experience.
You will be trained intensively by the Valiant Detailing team on the product range and will be able to use Menzerna polishes and pads with increased confidence.
Candidates will additionally benefit from being introduced to a host of best practices and techniques in use by the experienced detailing professionals at Valiant Detailing.
Successful candidates will receive manufacturer certification together with a certificate of attendance from Menzerna.
Training as part of the Menzerna Authorized Trainer concept takes place at the Valiant Detailing workshop in Huddersfield, West Yorkshire, and is based on one full day of training.
In brief, the event broadly follows the outline shown below, but is not limited to;
PART 1: Theoretical foundations
Paint build-up

Washing & decontamination

Polishing (Menzerna polishes & product range)

Paint preperation & sealing
PART 2: Practical part
Use of the Menzerna polish and pad program

Surface protection with coatings

Developing good working practice

Do's and do not's

End of day Q&A session
Bookings & Need to Know
Next 1-day course dates are Thursday 30th November 2023 or Friday 1st December 2023 (2 options available)

Price is £249 per person for the 1-day event - Pay via PayPal with a single payment option or spread the cost across three monthly payments

Event is hosted by Valiant Detailing at 201 Lockwood Road, Unit 3, Huddersfield, HD1 3TG

Recommendations on accommodation are available upon request

Event is limited to 4 participants - Minimum of 2 participants per event

2 tutors based on 4 participants

Certificate of attendance/certification is provided upon successful completion of the day (Menzerna certification)

Snacks & refreshments will be available on the day (please advise on any dietary requirements or allergies)

Please call, email or contact the team using the form below if you have any additional questions

Book your place using our upcoming event links toward the top of this page, complete your purchase using one the PayPal payment options provided

E-mail conformation will be provided by the Valiant Detailing team for each bookimg